I am so fortunate to share such an incredible friendship and bond with my mom, and I'm very grateful and proud to have her as my boys' nana. Every Mother's Day I try to give my mom a little note that expresses how much she means to me, accompanied with a pot of flowers. This year, in addition to my usual gift,  I thought it would be fun to create an edible bouquet from the boys, and some memory stones for her garden.
Cookie bouquet
I was inspired to create this cookie bouquet from a recipe I found here. They are appropriately called Play Dough Cookies because it feels like you're actually playing with Play-Doh, rather than making cookies, which made this extra fun (and a bit confusing) for M! It seems like I'm constantly reminding him to NOT eat the Play-Doh… and now we're baking it so nana can eat it? Talk about mixed messages! A couple of tips: 1. make sure to use food colour gels so you get rich colours and 2. dip your bamboo skewer in egg-whites, before sticking it inside of the cookie, to help secure them in place. I chose to make only two colours of dough: red/pink for roses and green for leaves.
Here's what you'll need to make your cookie bouquet:
OH!
One last thing! Make sure to place the finished product out of reach from sweet-toothed kiddos! Otherwise you'll come  into the kitchen and find what I did; my little one chowing down on one of the cookies!!! Well, at least now I know they're tasty 😉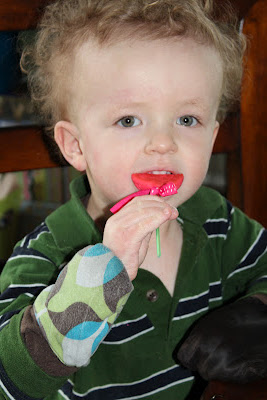 Memory Stones
So for this project, I totally cheated and just bought a kit from Michael's (hey, they were on sale- 40% off!), but I know nana will love them because she's a sucker for handprints like I am!
And that's how I kept my bugs busy today! Have a happy Mother's Day!
Share!
Follow!