M and I have been making a lot of trips to the public library. He really enjoys listening to the stories and songs at story-time, and then browsing the shelves for books to take home afterwards. M has always enjoyed books. Many times, when things get just a little TOO quiet, I can find M sprawled on the floor, or sitting in his room, flipping through books and trying to retell the story in his own words (it makes my heart sing every single time!). I hope his interest and love of books is just one of the things he carries with him for the rest of his long life.
One of M's favourite authors (along with millions of other children) is Eric Carle. As long as I've been teaching, I've never met a child (or an adult for that matter) that does not have a fond attachment towards at least one of  Eric Carle's books. M is no exception. For this blog post, I'm going to focus on two of his most loved books: The Very Hungry Caterpillar, and The Grouchy Ladybug.
The Very Hungry Caterpillar
I've read this story enough times to M that he is able to give a pretty decent retelling of it. I love that this book is not only a cute story about the life cycle of a caterpillar, but it also teaches math concepts such as the days of the week and counting.
For the iPad
There is also a neat iPad app that goes with this book called Counting with the Very Hungry Caterpillar, just in case you're interested:

Caterpillar Counting Game
I thought it would be fun to create a little game of our own to go along with the book, The Very Hungry Caterpillar; one that focuses on number recognition, sequencing, counting, and colour identification, while also incorporating a bit of art and colour mixing as well. Here's what we came up with: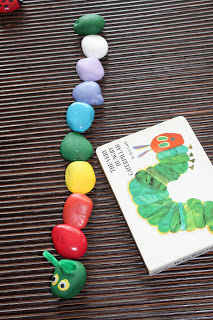 I swiped 10 stones from M's rock garden and had him paint each of them a different colour of the rainbow (I had M paint the head and last stone green, and one of the rocks white, in order to make 10 parts for our caterpillar- ROYGBIV+ 2 extra green + 1 white= 10)
Once they were dry, I painted the back of each stone white so I could write a number from 1-10 onto it with a sharpie. Then I glued some googly eyes, and an antennae made from a green pipe-cleaner, onto the head with a glue-gun, and our Very Hungry Caterpillar game was complete!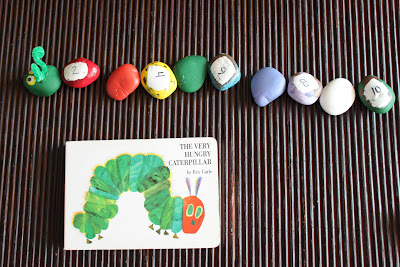 You could also use this game to teach odd and even numbers, and skip counting, by having your child flip over all of the even or odd numbered rocks and saying the numbers aloud.
YouTube Links:
M really enjoys when I switch it up and have him listen to someone else tell the story for a change. Here is a video of Eric Carle reading aloud The Very Hungry Caterpillar, and here's an animated version of the story. And, for the curious scientist in the family, here is an informational (and very beautiful) video of the complete life cycle of a monarch butterfly.
The Grouchy Ladybug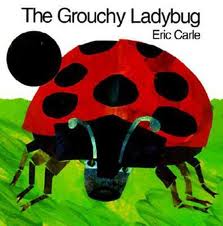 This is an excellent book to introduce the concepts of time (using an analogue clock), and size. M loves to go searching for ladybugs in our backyard (we have a lot of them so he doesn't have to look very hard!) Since we already had the acrylic paints out, M painted 3 stones from his rock garden red. When they were dry I took a sharpie and added the black detailing for the head and spots. Then I glued the googly eyes on with the hot glue-gun
and….Tadaaaaa!
Now M has three grouchy ladybugs he can add to his rock garden.
YouTube Links:
Here is an animated version of The Grouchy Ladybug M enjoyed watching, and here is an informational video on a Ladybug's life cycle.
And that's how I kept my bugs busy these past few days!
Click the link for more bug inspired activities!
Share!
Follow!